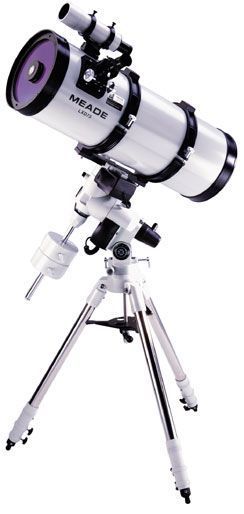 choosing what telescope to buy was one of the hardest things i had to do in this hobby. there are so many great telescopes and manufactures. i choose the lxd75 sn-10at with uhtc because i could not find a better telescope for the price. it offered a fast speed of f4 and a 10 inch aperture. the mount was solid for the price and the goto features are a plus. the only draw back to this scope is that it is large and heavy. this was a small negative for me because i was not looking for a portable or easily transportable telescope. all in all the telescope has performed above my expectations in all areas.
manufacture by = meade
cost = @ $ 1350 us dollars
vendor/supplier = www.telescopes.com ( below is the description available at the time of my purchase 6/2006 which outlines the product)
product description:
premium performer!
meade's lxd75 sn-10 at telescope with autostar and uhtc coatings is a precision instrument that'll give superb service over a lifetime. it's the perfect instrument for the intermediate astronomer, and it'll serve an advanced observer well, too.
expect all the conveniences. and expect ultra-sharp, ultra-bright images of planets and deep-sky objects like nebulae, star clusters and galaxies. for at this telescope's heart are premium-grade meade optics.
optical performace


diffraction-limited optics – 10-inch, schmidt-newtonian optics are mounted in precision-machined aluminum cells, which are in turn enclosed in sturdy, steel tubes and coated with high-grade, baked-on, textured enamel. the optical tube assembly is closed, reducing air currents inside, preventing image distortion and helping to keep optics clean.
corrector lens – corrects fully for spherical aberration and provides pinpoint star images. water-white glass increases light transmission more than 10%.
pyrex primary mirror – premium-grade pyrex mirrors provide exceptional thermal stability and eliminate image shimmer.
fast f/ratios – extremely fast, well corrected f/ratios provide short photographic exposure times and wide fields of view.


ultra-high transmission coatings - uhtc [top of page]




the meade uhtc group permits the highest levels of light transmission (a 20% increase in total telescope light trans-mission compared to the standard-equipment coatings) ever offered on amateur telescopes.


autostar controller



the autostar controller helps you quickly find, and goto more than 30,000 objects in the night sky. view planets, stars, galaxies, nebulae, and comets…all at the push of a button. autostar is pre-programmed with several guided tours, including the popular tonight's best. to take it, just input date, time and location. then let autostar take you on a guided tour of the best objects that particular night. the autostar controller can be updated, too. log on to meade.com to download software upgrades, guided tours, and timely objects like comets—free. keep your autostar up-to-date and your telescope will grow with you for years to come.



high performance features


german equatorial mount with heavy-duty shaft and castings, as well as precision worm gears on both axes, to ensure precision tracking and slewing – essential for astrophotography.
high-precision pointing (hpp) for ultra-precise pointing, the hpp function puts objects in the center of the field of view, allowing quick, easy location of deep-sky objects at the farthest limits of the telescope's capability.
periodic error correction eliminates periodic errors on the ra axis over the course of one or more training periods, minimizing guiding corrections during long-exposure photography.
nine-speed drive controls provide a rapid slew rate of 4.5°/sec. or 1x sidereal; tracking and slewing are controlled from the autostar controller.
three-star alignment ensures precise alignment and eliminates the need for a complicated optical/mechanical alignment process.
variable-height field tripod with spreader bar brace provides the excellent stability and vibration-damping required for both visual observation and astrophotography;
illuminated polar alignment viewfinder offers quick, precise polar alignment,
powered by eight d-size batteries or by optional car cigarette lighter and ac wall adapters.

credit=description from telescopes.com pages 6-2006