meade deep sky imager (dsi) update 7/2006 - meade now offers a dsi pro and dsi proii (even better)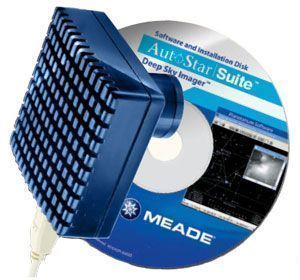 this is a little harder to get use to then the meade lpi, however, once you use it several times you will be hooked. very sensitive to light making it a perfect candidate form deep sky imaging. this accessory is priced right for what you get and will keep anyone busy for a long time. there's are a lot of high price ccd equipment out there and i am sure they have there place, however, when you compare the results one gets with the dsi, its hard to justify the additional expense, for the amateur astronomer. if you are just getting into imaging you might want to start with meade's lpi first.
manufacture by = meade
cost = @ $ 299 us dollars
vendor/supplier = www.telescopes.com ( below is the description available at the time of my purchase 2/2005 which outlines the product)
product description:
it's the hottest thing to hit the backyard astronomy community in years!

the new meade deep sky imager lets even the novice telescope user capture amazing deep-space images the first night out.

the meade deep sky imager is a real breakthrough. using proprietary methods (pats. pending) meade's engineers have produced a high-performance, easy-to-use and affordable, color ccd camera that will allow every astronomer to shoot and process stunning deep-sky images – all for less than $300.

taking high-quality deep-sky photographs previously required mountaintop telescopes, expensive software and mastery of difficult focus, exposure, guiding and processing techniques. but no longer. meade's new deep sky imager works with a backyard telescope. and it's bundled with autostar suite software that automatically sorts, aligns and combines best features to produce an extremely low-noise, highly detailed color image. with meade's deep sky imager and autostar suite combined, you will be taking incredible color images of galaxies, nebulae, star clusters and planets on the same night you receive your equipment in the mail.

truly, with the meade deep sky imager and autostar, you don't need thousands of dollars' worth of photo equipment to take deep-space images. now, for less than you'd pay for a modest, 27-inch tv, you can capture your own breathtaking photos. and then you can really see what's out there!

specifications

ccd imager - high sensitivity sony super had color ccd sensor
pixels - 510x492 (250,000 pixels)
pixel size (in microns) - 9.6 microns (w) x 7.5 microns (h)
a/d conversion - 16-bit (greater depth and contrast)
min/max exposure time - 1/10,000 of a second to one hour
housing - anodized die-cast aluminum
usb compatiblity 2.0 and 1.1
size/weight - 3.25"x3.25"x3.25" /10 oz.
compatible with any telescope that uses 1.25-inch eyepieces
images taken with the new deep sky imager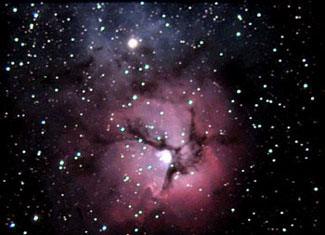 m20 - trifid nebula - image by john hoot. all images were taken with a meade 8-inch, lx200™gps telescope using meade's deep sky imager. total exposure time was 10 minutes (20 exposures at 30 seconds each – automatically stacked). all images were processed using meade's autostar suite software.






image taken with deep sky imager m51 - whirlpoolgalaxy
credit=description from telescopes.com pages 3-2005