terrific highly portable refractor telescope for getting started in astronomy or as an upgrade for a non-motorized model! unbeatable price for the features on this factory outlet special! complete scope, ready for the night sky. considerably larger than the typical entry level 60mm telescopes, the 80mm objective lens produces an image 75% brighter at the same magnification, with increased sharpness and clarity.

this scope features a multi-coated, achromatic objective lens of 80mm diameter (900mm focal length, f11) ; rack and pinion focuser with american size 1.25" eyepiece holder, and dual motor electronic altazimuth mount system with four button keypad motorized for both vertical and horizontal movement. standard equipment also includes a battery pack for 10 aa size (user supplied) batteries; full length adjustable height field tripod with aluminum legs; accessory tray; pc-compatible astronomy software; 6x30 viewfinder with bracket and two eyepieces (1.25") h25mm and h9mm for magnifications of 36x and 100x.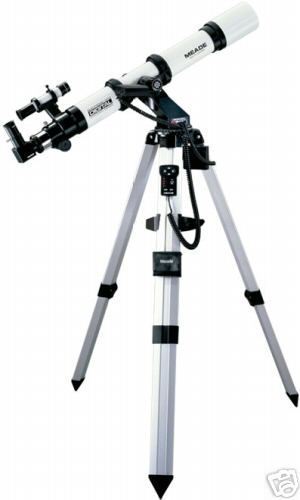 optical design: achromatic refractor
diameter: 80mm (3.1")
focal length: 900mm f/11.3
resolving power: 1.5 arcsecs
coatings: multi-coated
limiting visual magnitude: 11.6
maximum practical visual power: 275x
optical tube dimensions: 3.25" x 34"
focuser; eyepiece barrel dias: 1.25" & 2"
the "ec" electronic controller hand control allows for four speed pushbutton operation of the telescope. use the fast (6 degree per second) speed for rapid changes of position, while slower speeds allow for centering targets in the viewfinder and main eyepiece. the lowest speed is used to make the fine adjustments needed for tracking celestial targets, to compensate for the rotation of the earth. this model is upgradeable to the autostar computer keypad (not included) which allows for fully automatic tracking and goto of targets in the autostar database.
credit=description from meade factory outlet store pages 9-2005