the stellarvue f50 finder comes in either black or white and is designed to be the best 50 mm finder on the market. it uses a fully multicoated doublet objective, correct image 90 degree erecting prism, a 1 1/4" helical focuser with rubber grip and a high quality fully coated eyepiece with large eye lens and cross hair reticle. both the eyepiece and the reticle may be focused and other conventional 1.25" eyepieces may be used.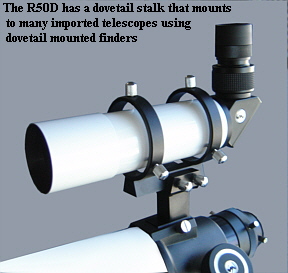 unlike many finders that use inexpensive slide tube focusers or require screwing and unscrewing the objective to reach focus, the stellarvue can be focused to accommodate different people thanks to its helical focuser. merely turn the rubber grip to attain focus.
the finder will accommodate various standard 1 1/4" eyepieces. most naglers, panoptics, plossls and kellners will come to focus. certain eyepieces that are not parfocal with standard designs may not come to focus but this is the exception, not the rule.

the eyepiece that comes with the finder is a high quality, fully multicoated, 23mm wide field eyepiece with 22 mm of eye relief and a large eye lens. this eyepiece features a fine, focusing cross hair reticle.
the f50 finder was designed by stellarvue to be the best in its class. we started with an accurate f-4 doublet objective. mounted it in a blackened tube with baffle, threaded the dewshield for anti-reflection, designed and made a bak-4 correct image erecting prism and mounted to that our own helical focuser with rubber grip accepting all 1 1/4" eyepieces. most eyepieces, like the plossls, naglers, etc come to focus. the wide field eyepiece we supply is fully coated and does an excellent job providing nearly 7 degrees of field.
several mounting ring systems are now available for the f50 finders. you may now mount them on many different brand telescopes using standard dovetails. our mounting rings use a dovetail rail with a safety stop. this rail slides into a dovetail base or a stalk for many different mounting combinations as described below. see the selection chart at the bottom of this page for more information.
the finder rings come with stainless adjustment screws but we also include nylon thumbs screws. use these to protect the paint finish on the finder.
credit=description from www.stellarvue.com/f50.html pages 11-2005