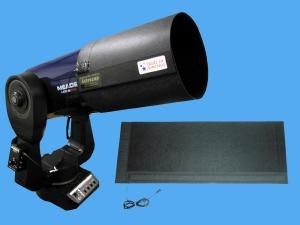 click image to enlarge
i like this item and it works great. i would recommend this to anyone that wants to solve the dew problem at a reasonable price..
manufacture by = astrozap
cost = @ under 100 us dollars for 10" lxd75
vendor/supplier = www.scopestuff.com ( below is the description available at the time of my purchase 5/2005 which outlines the product)
product description:
until now, standard unheated dew shields could only prolong the onset of dew formation. depending on your geographic location, a simple dew shield may be all that is required. (dew shields are also great for blocking stray light from reaching your optics.) however, in moist climates, dew can still creep up on you within a short period and your viewing session is over. why not add some heat?
[top of page]

our flexi-heat dew shields direct the heat right to your optical tube assembly, thus eliminating any chance of dew formation. guaranteed! the source of heat is a thick film heater manufactured for operation at 12 volts. sixty-six percent of the surface area is
heat emitting - this means more even heat distribution and no localized hot spots or burnouts often associated with resistance wire heaters. best of all, it won't create heat wave disturbances.

the astrozap flexi-heat dew shields are made from durable yet light weight abs plastic and lined with black felt to help increase contrast. a 2-inch sewn neoprene rubber mega grip material wraps snugly around the telescope optical tube assembly, keeping the
dew shield in place, and eliminating any chance of dew formation!

the #dncp fused cigarette lighter plug adapter provides an easy solution for simple installations, replacing expensive controllers. it comes with a 3 amp replaceable 3ag type fuse, which will support all of the heaters listed below. also works with other brand dew
heaters.

the #dncr is a low cost adjustable controller for powering dew removers, providing 5 power settings, with connectors for 2 dew shields.

credit=description from scopestuff.com pages 5-2005